NEON NIGHTS
Explore the Neon Nights of Oldtown, Olympias' infamous underbelly and join the homicide detectives Siro Ferreira-Nunes and Kate Spader as they investigate an implant harvester ring!
Neon Nights is my latest cyberpunk installment, a crime/detective series set in the world of Behind Blue Eyes and featuring two of the most popular side characters of the series.
It's going to be bloody and very sexy. You don't want to miss out on this!
Get Neon Nights
SPACE PUNKS
I'm super thrilled to announce my latest series: Space Punks. It's an exciting blend between cyberpunk and space opera, a bit as if The Expanse and Cyberpunk 2077 had a baby.
Check it out, you're in for a wild ride!
Behind Blue Eyes 4- Last Stand
Fans of the series had to wait twelve months to learn how Behind Blue Eyes continues. Now it's finally available and despite the title, it's not the last book in the series!
GET IT NOW!
Description:
Don't mess with Metatron– just don't.
Nephilim barely survived the dramatic events of Behind Blue Eyes-War Games. Her body has been horribly damaged, yet her spirit is as unbroken as ever.
While Nephilim recovers from her injuries at Guardian Angel HQ, the High-Archangel plots revenge. Metatron takes the assault on Nephilim personally and will make those responsible pay.
If this means going against the Board of Olympias and starting a war with the elites, then so be it.
But Cillian Stavros is expecting an attack, and he isn't the only powerful player who wants to see Metatron dead…
Meanwhile, Rosprom is preparing its biggest military offensive against Olympias with the goal of total destruction.
Only the Guardian Angels can stop the invasion. And only Nephilim can lead them into battle.
Will their desperate Last Stand be enough to avert a catastrophe?
Find out in the next chapter of Behind Blue Eyes—THE modern-day cyberpunk saga.
Get it now!
Villains are made, not born.
The long-awaited Behind Blue Eyes prequel trilogy is now available.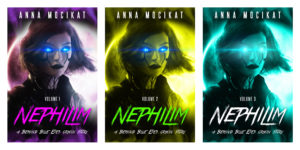 Join Nephilim on her journey of becoming a killer cyborg!
Description:
Villains are made, not born.
Nephilim is a Guardian Angel, one of the cybernetically enhanced super-soldiers, created to protect and destroy. Protect the Olympias Conglomerate, the mega-corporation that owns them, and destroy its enemies– at any cost.
Nephilim is ruthless, sexy, and the best of these elite cyborgs–an unstoppable killing machine.
But like all of her kind, she wasn't born like that; she was made.
Nephilim is only a child when silent black-clad killers with neon-blue eyes invade the village she grew up in, murder her parents and abduct her and the other children.
With her memory wiped, Nephilim finds herself in a brutal program that turns the traumatized kids into the deadliest weapon in human history.
But unknown to anyone except Metatron, the High-Archangel, Nephilim is special, and like a puppetmaster in the shadows, he grooms her for something greater…
Now available!
The first three books of my bestselling cyberpunk saga Behind Blue Eyes bundled into one! More than 1300 pages of cyberpunk goodness for a discounted price. What is there not to love?
Find it here:
Trailer:
Cyber Squad – Level 3
It's here! The long-awaited third book in the Cyber Squad series is now available. More mysteries, more action, more overall badassery!
Get it now!
EXPERIENCE THE NEXT CHAPTER
Of all my book series, Behind Blue Eyes is my dearest. It's my flagship and my life work. After months of hard work, Behind Blue Eyes 3- War Games is finally available. You don't want to miss out on that story, trust me!
Get it now!
OUT NOW!
Once again I brought together 15 of the best contemporary cyberpunk authors and published a short story anthology.
I'm happy to share, that Neo Cyberpunk Volume 2 is now available for purchase. No matter if you're a cyberpunk veteran or new to the genre, you'll enjoy the variety of different stories in this book.
Find it here:
OUT NOW!
I'm very excited to share that Cyber Squad- Level 2 is now available as Kindle, Kindle Unlimited, paperback, hardcover and audiobook!
Check it out!
OUT NOW!
Great news! My latest novel, Cyber Squad, is now available on Amazon worldwide!
I worked very hard on this book and hope you all enjoy it.
Find it here:
Not convinced yet? Here the trailer:
CYBER SQUAD – now available for pre-order!
I'm so excited that my latest novel, Cyber Squad, is now available for pre-order in the Kindle store worldwide!
The release date is August 11th 2021. Pre-order now and Cyber Squad will be delivered to your Kindle reader on release day.
Do you have what it takes to become a member of the Cyber Squad?
Coming Soon!
I'm thrilled to announce my new book, Cyber Squad!
It's a Gamelit/LitRPG Cyberpunk story and the first book published under my pen name A.K. Mocikat.
Presale and more info coming soon!
OUT NOW!
The Behind Blue Eyes audiobook is here!
Narrated by the outstanding Sean Duregger it is available at Amazon, Audible and all other major audiobook retailers.
Get it now!
Behind Blue Eyes 2 – Fallen Angels is here!
I'm thrilled that reviewers call it even better than the first book.
Find it here:
Watch the trailer here:
Big NEWS!
I'm very excited to announce my partnership with Spectrum Audiobooks who will produce all my published novels and the upcoming ones for the audiobook market.
All my books will be voiced by the incredibly talented narrator Sean Duregger. I couldn't be happier about this cooperation! Sean brings the worlds in my head to life with his incredible voice.
You can find some snippets from the upcoming Behind Blue Eyes audiobook on my YouTube channel!
Behind Blue Eyes 2 – Fallen Angels
coming March 24th!
I'm super excited to announce my new book Behind Blue Eyes 2 – Fallen Angels and present its cover.
Same as the Behind Blue Eyes and the Neo Cyberpunk covers, it was created by the amazing designer Ivano Lago.
Watch the ne teaser trailer here:
Neo Cyberpunk – The Anthology
OUT NOW!
I'm very proud and excited to present my latest project.
It's a collection of 15 cyberpunk stories, written by 15 of the hottest cyberpunk authors on the market! My friend and cyberpunk author Matthew A. Goodwin and I have compiled the anthology and are very proud to act as its publishers.
Neo Cyberpunk features my brand-new short story We Are The Good Guys. It's set in the Behind Blue Eyes universe and forms a bridge between book1 and book2 (coming March).
The cover has been created by Ivano Lago who also designed the Behind Blue Eyes cover.
Get the book here:
Trailer by me 🙂
Dark City
NOW AVAILABLE HERE:
Watch the trailer here:
Behind Blue Eyes
NOW AVAILABLE HERE:
"They are the perfect hybrid of human and machine. They are the next step in the evolution of mankind. And when they come after you, nothing in the world will save you."
Teaser Trailer #1
Teaser Trailer #2
Teaser Trailer #3
Dark City
I'm thrilled to announce that I have signed a new contract with my wonderful publisher Black Rose Writing.
Dark City, the sequel to Shadow City, will be released on September 17th, 2020.
The mystery about Colton and the truth about Vincent will be revealed, in a city falling into darkness…
Stay tuned for updates…
Get Shadow City over Amazon and all other major retailers.
Click here:
See Shadow City page for other retailers!